Our Shop - Aidan Sweeney in Brecon
Specialist gentlemen's outfitters plus ladies underwear and traditional household items
You receive a dedicated personal service at our family shop in Brecon. We take enquiries and orders by phone on 01874 623613, by email, by post, and in person. We pride ourselves in caring for our customers, whatever your requirements and however you contact us.
We opened our gentlemen's outfitters shop here in Brecon's historic Market Arcade in 1986. The main attraction for many of our customers is meeting my mother, Mrs Sweeney. She is over 90 and still works in the shop 6 days a week as she has done since we opened. My son James is the next generation, helping in the shop when his freelance events business allows.
Our shop has antique fixtures with brass fittings, a traditional wood and glass counter, and a 1930s till - and our customers want it to stay just as it is. This website is an addition to the shop, not a replacement for it.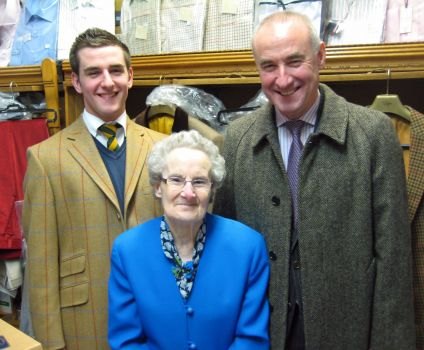 ---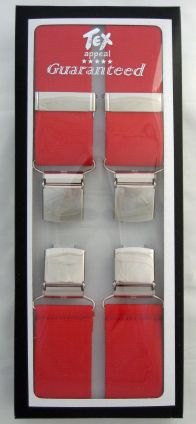 Made to Measure: men's suits, sports jackets etc
Many customers come to the shop for our top quality men's made to measure suits, Magee personal tailoring, and Magee Donegal tweed sports jackets. You can see an introduction to what we offer in our Made to Measure pages. Phone us or call in if you would like to find out more. I deal with all made to measure enquiries personally and can answer any questions about our menswear range.
Other menswear: pyjamas, braces for taller men, traditional underwear
Our menswear accessories and men's underwear ranges complement our men's clothing. They are available online and in the shop in Brecon. Extra strong and extra long braces for taller men are specialities. We have additional items in the shop in Brecon. You can order these by phone. Contact us to make an enquiry about any of our items - if you call us in the shop on 01874 623613, we'll be delighted to have a chat with you.
---
Men's shoes and boots
We stock Anatomic gel shoes and boots in the shop. If you already have a pair and know your size, contact us and we will dispatch an order to you. Because of variations in sizing between brands, we do not currently offer Anatomic footwear online. However, we are experienced in advising on sizing so would be delighted to hear from you or see you in the shop if you would like to make an enquiry. Our prices are particularly competitive for Anatomic shoes and boots.
---
Ladies' underwear: Sloggi briefs and tops
We also have many years experience providing ladies' underwear, including Triumph Doreen bras in large sizes. We have provided this service by mail order for many years. You receive dedicated personal service, whether you come to the shop or contact us by phone or email. You can order Sloggi briefs and Sloggi Double Comfort tops (bras) in the Sloggi section of the online shop.
We can order any other item from the Sloggi range and any item from the Triumph catalogue for you. Call us on 01874 623613 if you would like to find out more.
Ladies nightwear
We stock bed jackets, dressing gowns, nightdresses, and bed socks in our shop in Brecon.
If you would like to phone and have a chat about what we stock or discuss a possible order, contact us on 01874 623613.
---