About Us
The family: 50 years' experience in men's clothing and made to measure
We are a family business with over 50 years' experience in traditional men's clothing. I opened our gentlemen's outfitters shop in Brecon's historic Market Arcade in 1986.
We specialise in top quality men's made to measure suits for all occasions and tweed sports jackets. We also have many years experience providing ladies underwear and traditional household items. You receive dedicated personal service, whether you come to the shop or contact us by phone or online.
My mother, Mrs Sweeney, has worked in the business from the start. She turned 90 in 2014 and still going strong! Mother continues to help with the administration and packing of our internet orders.
The third generation is my son James. He helps out in many different ways when his career allows. James loves smart, quality, classic men's clothing - and adds a contemporary twist too.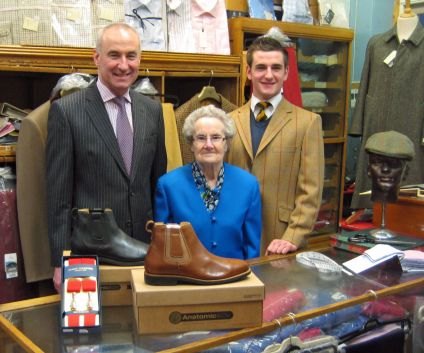 ---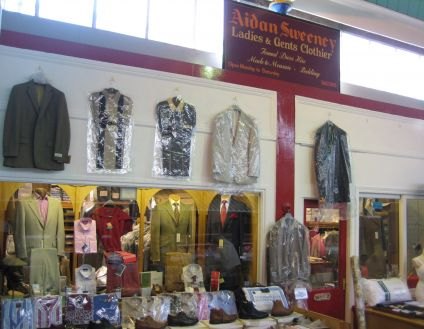 The shop: traditional gentlemen's outfitters in historic Market Arcade
We have antique fixtures and fittings, a traditional wood and glass counter, and a 1930s till - and our customers want it to stay just as it is. This website is an addition to the shop, not a replacement for it.
Our shop is in Brecon's historic Market Arcade, which leads to the Market Hall. The Arcade is also home to an independent wool shop, an independent grocer, and an independent butcher - run for over 30 years by my brother Paddy.
Made to measure suits, Donegal tweed sports jackets, Anatomic Gel shoes and boots, and extra long braces are specialities. We provide hard to find larger sizes of clothing and underwear - especially men's Jockey and Sloggi briefs, ladies' Sloggi underwear, and Triumph Doreen bras.
Other stock includes shirts, socks, vests, boxer shorts, handkerchiefs, dressing gowns, hats, caps, Egyptian cotton sheets, seersucker tablecloths, long bolster pillows, traditional cotton roller towels, and range towels. Contact us on 01874 623613 to ask about items that are not in the online shop.
We concentrate on high quality, long-lasting products. This helps you and the environment, because items do not need replacing frequently.
---
The ethos: personal service and classic clothing with individual details
Personal service, attention to detail, and providing top quality products for you are our hallmarks.
Value for money is important, so buying quality items is a rewarding investment. Classic menswear lasts for years and stays stylish beyond high street trends.
Made to measure gives you an individual touch too, with options for many different design details and monogramming. Whether you would like a formal suit, a Donegal tweed suit, a casual suit, a tweed overcoat, a jacket or trousers, you will find what you need amongst the hundreds of fabrics and linings in our personal tailoring and made to measure clothing ranges.
I personally oversee all men's made to measure menswear orders, from the initial enquiry until you are wearing the garment. Phone me on 01874 623613 for a chat about your requirements.
---
The customers: from Brecon, Wales, UK, and abroad
People from all walks of life use our shop. It is a great pleasure to meet many of you regularly in Brecon. Menswear customers include local families, farmers, boys and masters at Christ College in Brecon, military men (we also dispatch to BFPO addresses), funeral directors, and professional people such as solicitors, barristers, architects, and accountants. We value all your custom.
Customers from all over the UK and abroad regularly come back to the shop in Brecon. Some are from families with local Welsh connections, some are people who found us when holidaying in Wales, and many are from word-of-mouth recommendations. They include politicians, a best-selling crime writer who lives in the United States, a consultant to the Prince of Wales, a television news anchor, and leading barristers.
I record each customer's personal order by hand in a leather-bound ledger. There are thousands of entries in three huge volumes. This is a tradition we carry on in parallel with the website.
We have website customers from all over the world as well as throughout the UK. Some are ex-pats who have Brecon connections, some are people who found us while on holiday in Brecon, and many find us via internet searches.
---
The town: Brecon is easily accessible from the M4, M5, A40, and A470
Brecon is a small market town in the Brecon Beacons National Park in South Wales, UK. You can reach us easily by car from the Midlands, the West of England and many parts of Wales. There are railway links to Abergavenny, Newport, and Hereford.
Main road routes to Brecon:
M5, M50, A40 from the West Midlands and Birmingham
M5, M4, A470, A40 from the West of England and South Wales
Approximate car travel times to Brecon:
Cardiff, Swansea, Newport, Chepstow, Llandeilo, Hereford, Monmouth: 50 to 60 minutes
Carmarthen, Ross-on-Wye: 70-80 minutes
Malvern, Tewkesbury, Bristol, Ludlow, Worcester, Chippenham, Tenby: 90-100 minutes
Cheltenham, Gloucester, Kidderminster, Bromsgrove, Birmingham, Bath, the Cotswolds, Swindon, Marlborough, Royal Wootton Bassett: 2 hours
Attractions in Brecon within half a mile of our shop:
Brecon Cathedral and Cathedral Close
Regimental Museum, featuring events made famous by the film Zulu
Y Gaer - Brecknock Museum/Art Gallery/Library
Brecon's theatre - Theatr Brycheiniog
Brecon and Monmouthshire canal, with marina, boat hire, and boat trips
An independent two-screen cinema
---
The area: enjoy a break in the beautiful Brecon Beacons National Park
Brecon is a good base for exploring the Brecon Beacons National Park.
There is plenty of accommodation locally, including hotels, B&Bs, guest houses, bunk houses, campsites, a Youth Hostel, and holiday properties such as the wide selection of lovely self-catering farmhouses and cottages throughout the area offered by Brecon Beacons Holiday Cottages.
Nearby attractions include:
hill walking
horse riding
canal boating
mountain biking
bird watching
sailing on Llangors Lake
Cradoc Golf Club
Brecon Golf Club
fishing
many wedding venues
The Brecon Beacons National Park Visitor Centre, near Libanus
---
---