Magee Personal Tailoring
Magee Personal Tailoring allows you to buy clothes individually made for you, but without the expense of a full made to measure service.
I discuss the whole process with you and make it easy for you to chose Personally Tailored items that suit you.
Contact us on 01874 623613 if you would like to find out more.

Magee of Donegal offer many styles of suits, jackets, trousers, blazers, and overcoats.
Magee's large selection of fabrics includes handwoven Donegal tweed, cavalry twill, wool suit fabrics, moleskin, and corduroy.
We offer a dedicated personal service based on decades of experience in the menswear business.
Together this means you can select a quality, well made, long-lasting garment that you know is just right for you.
Below is an introduction to our Magee Personal Tailoring service. To find out more, phone us on 01874 623613 or email us.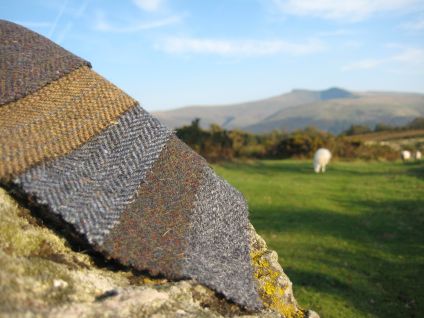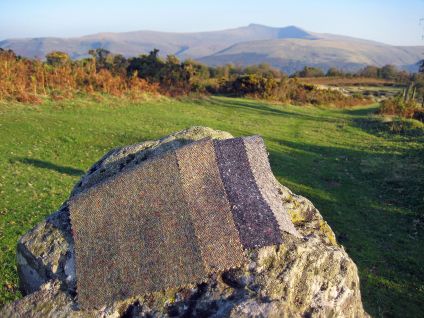 DONEGAL TWEED
Magee's handwoven Donegal tweed is the stylish choice for sports jackets. This pure new wool Irish tweed is available in a range of traditional herringbone designs and salt and pepper designs. The colours are inspired by the shades of the Donegal landscape. Examples are shown above and at the bottom of this page.
Magee's personally tailored sports jackets are great for active outdoor wearand leisure as well as for semi-formal wear with corduroys or cavalry twill trousers. Donegal tweed can also be made into trousers and waistcoats to complete a 2 or 3 piece suit. Your choice of linings and horn or leather buttons (examples shown below) complements the fabric and style for a great overall look.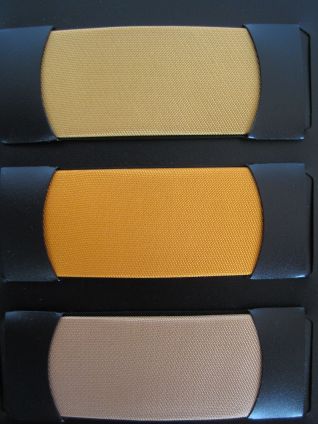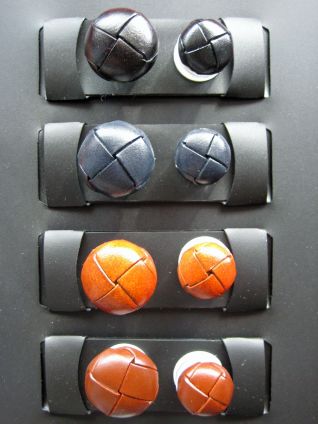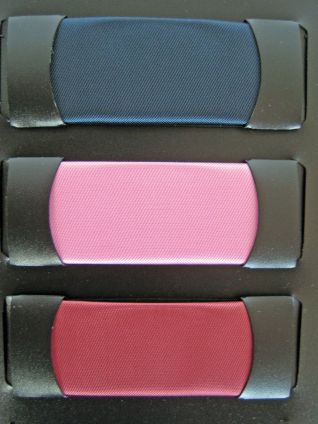 Donegal Tweed overcoats are another option: natural and durable protection against winter weather in a stylish cut and long length. The Magee Corrib Donegal tweed overcoat is also available off the peg - you can see details and order in our online shop.
Magee's Donegal tweed appeals to all ages - I have customers from their 20s to their 90s who regularly order tweeds from Magee's Personal Tailoring range.
For sports jackets in 100% wool checked patterns, both subtle and bold, Magee's Country Sports range has plenty to offer. Examples of country sports checked fabrics are shown below right and at the bottom of this page.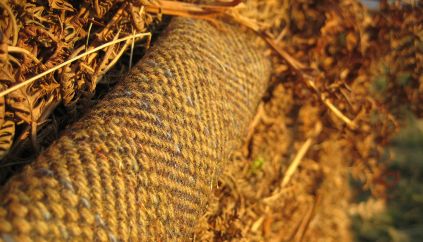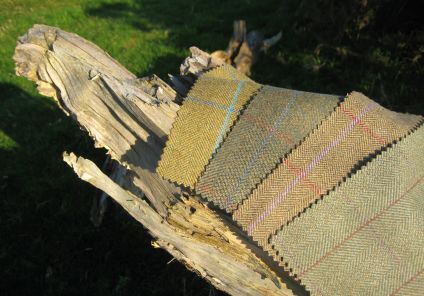 SUITS, 2-PIECE and 3-PIECE
Magee's personally tailored suits are available in lightweight, medium weight, and heavyweight fabrics. For example, the Winero range is heavier cloth which performs well, dry-cleans excellently, and looks smart throughout long term wear. Depending on what we have in stock, we may be able to send you swatches of fabric.
Wool suit fabrics include a range of pinstripes, chalkstripes, Prince of Wales check, bird's eye, pick and pick, and plain colours. A small selection of the many Magee Personal Tailoring wool suit fabrics is shown below.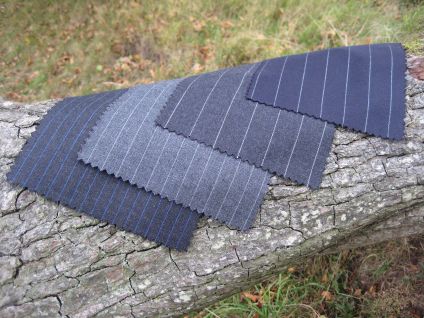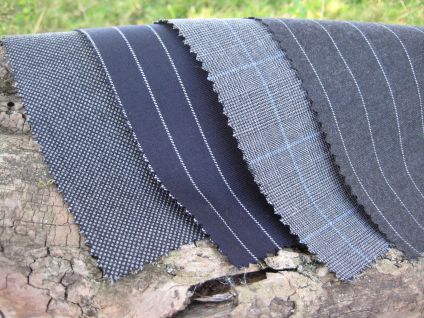 BLAZERS
Different styles of Magee blazers are available for different uses. For example, the Nice Crest Blazer (below left) with flap pockets plus patch breast pocket is particularly appropriate for groups such as male voice choirs, or for officers of organisations such as Golf Clubs, Bowls Clubs, Rotary Clubs, or Probus. As an added refinement, your choir, club, or organisation badge can often be made directly onto the breast pocket. These are top quality blazers that your organisation will be proud of.
For semi-formal wear, you might select a Nice Blazer (below right) with straight flap pockets and an outside breast welt pocket - the choice is yours.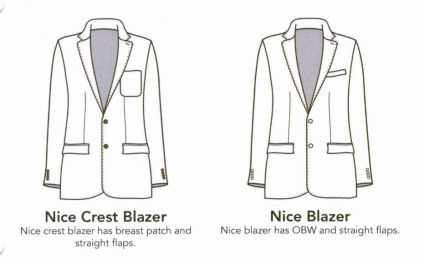 CAVALRY TWILL TROUSERS
You don't have to be in the cavalry to cut a dash in cavalry twill - though Brecon is proud to be a military town and we are proud to have provided cavalry twill to many military men. Cavalry twill trousers give a smart classic look with a tweed sports jacket or dark blazer and a Tattershall check Viyella shirt.
CORDUROY TROUSERS
Magee's corduroy is a luxurious fabric. The eight wales (ridges) per inch give a weight and drape that is warm, comfortable, and flattering. Colours range from vibrant red and gold through salmon pink to more subdued country colours such as brown and olive green. Magee's corduroy trousers are lovely winter wear for a walk in the countryside, a day at the races, or relaxing at home. They are available in the Personal Tailoring range and from stock. We also stock Meyer corduroy trousers, which are available to see and buy in our online shop.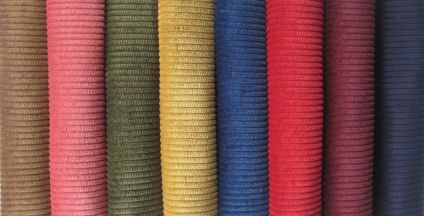 OVERCOATS
Magee's traditionally woven Donegal tweed overcoats provide natural warmth and weather resistance. The classic styles and fabrics are comfortable, wear well, and retain a smart and timeless look for town and country wear.
The Corrib overcoat is full length with Raglan sleeves, fly front, and contrast lining. It has practical inside pockets plus outside slant pockets, and a centre vent. It is a stylish choice for winter wear, and can be ordered from stock or individually made for you through Magee's Personal Tailoring. It is shown (below right) worn with Magee's deep red corduroy trousers.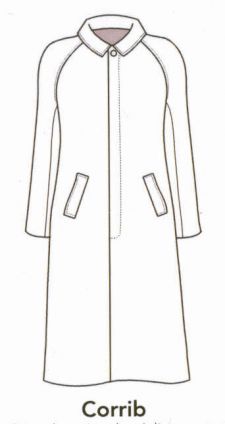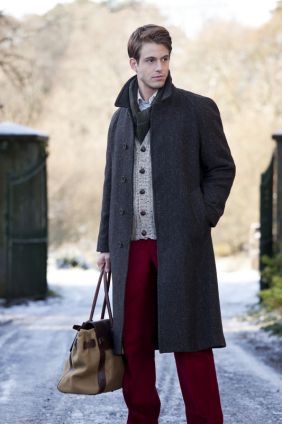 How To Order
Phone us on 01874 623613 to make an enquiry. You can explain what you might be interested in, and I can outline your options.
If you wish to proceed, we make an appointment convenient to you to discuss styles and fabrics.
You make your personal choices about all aspects of the clothing you would like.
Your details, choices, and measurements are then sent to Magee in Ireland and your garments are made individually for you.
Appointments can be made for evenings and weekends in Brecon as well as during shop opening hours. Alternatively, enquire about our travelling tailor service - often I can visit your workplace or home.
Magee Personal Tailoring offers a great range of options in personalised menswear for discerning gentlemen in town and country. This section of our website offers an introduction to the many styles and fabrics from which you can chose your specific garment.
Contact us on 01874 623613 or by email to find out more or to book an appointment. I shall be delighted to discuss the options from the Magee range with you.